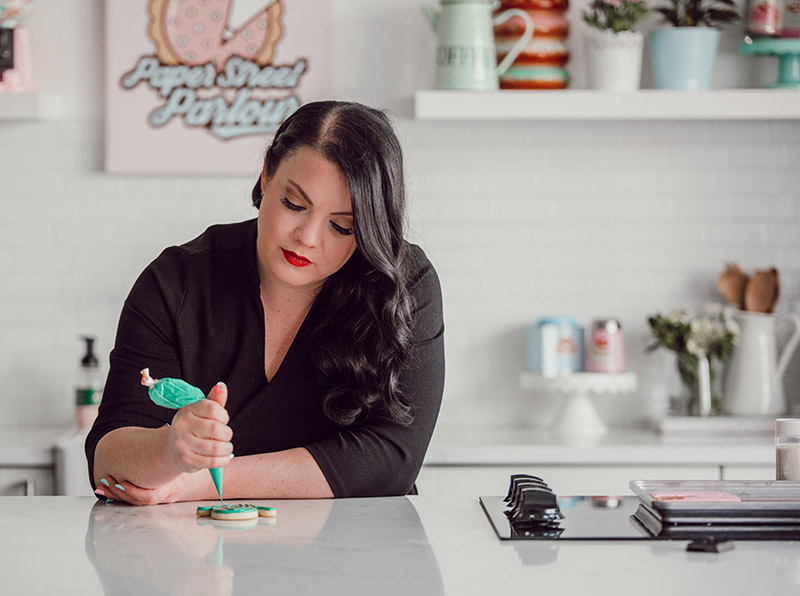 Hi, I'm Tyler, a professional pastry chef offering a self-guided Online Cookie Decorating Masterclass for beginners who want to learn all of the cookie decorating fundamentals.
I provide you with my recipes, supply list, tons of FAQ content, and (3) in-depth video modules that cover everything cookie dough, royal icing, and basic cookie decorating.
Here's a little preview…
BONUS! You'll also get access to my online Christmas Cookie Decorating Class AND Christmas Gingerbread House Class! But it's not Christmas time, you say? That just means you'll have plenty of time to perfect your Christmas cookie game.
More Online Classes Coming Soon!
I'm currently hard at work creating over a dozen brand new holiday and theme specific online cookie decorating classes! We're talking Halloween, Thanksgiving, Christmas, Valentine's Day, and so many more.
These new classes will include an in-depth intro video of my whole spiel just like I would do in an in-person class where I break down all of the must-know info, supplies, tips, tricks, etc. THEN, you watch me decorate the full set of cookies step-by-step!
You'll get a PDF packet with additional step-by-step visuals, my recipes, supply list, colors to make, and even printable cookie cutter guides that you can use in lieu of actual cookie cutters.
Make sure to subscribe to be the first to know when my new online classes launch!
Subscribe for Updates
Never miss a recipe and find out when new online classes drop!
Until then, I highly recommend starting with my online masterclass.